New Treatment Menu​
Sea Magik New Wave Wellness Rituals are designed to make both clients and therapists feel good, every day.
Sea Magik Wellness Rituals are a new wave of spa and salon treatments designed to make clients feel good whilst giving transformative pro-ageing results.​​ 
These indulgent holistic rituals blend the healing power of sea minerals with yoga-inspired philosophy, to restore wellbeing and vitality to both the client and therapist.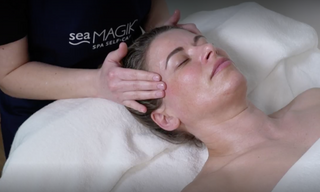 Facial Rituals
Combining sea mineral skincare and yoga-inspired philosophy for the ultimate wellness experience, our Facial Rituals give pro-ageing results whilst boosting emotional wellbeing. We blend only the highest quality sea minerals to create transformative facial experiences that are both luxurious and effective. Our lifting and sculpting yoga massage movements are designed to provide a deep level of relaxation while also toning the skin, promoting a youthful, healthy glow.
Scalp + Hair Rituals​
Our new scalp and hair massages combine sea minerals, chakra massage and tension-relieving aromatherapy oils to leave your clients feeling fully de-stressed and glowing.​
Feel Good Scalp + Hair Rituals​
Massage Rituals​
Mind, body and soul experiences, inspired by the healing power of the sea and the mindful practice of yoga. These principles work in synergy to treat skin health whilst boosting emotional wellbeing. Our signature Yogassage massage sequence is the ultimate way to release tension and feel completely rejuvenated. Inspired by the waves of the sea, this massage promotes a deep state of relaxation to refresh and revitalise the body. 
Feel Good Massage Rituals​
Body Rituals
Designed to deeply nourish the skin whilst easing tensions and restoring balance to the body and mind. Our body rituals are a modern twist on traditional spa treatments and include deep cleansing and purifying sea salt and mud therapeutic rituals combined with yoga and ocean-inspired massage movements for maximum relaxation. 
Hand + Foot Rituals
Offer your clients the ultimate in hands and feet pampering with these hydrating sea minerals rituals, designed to provide soothing relief, repair skin and relax muscles.
Feel Good Hand + Foot Rituals​
Coming soon...An interactive hybrid approach to training.
New online learning format with treatment tutorial videos for complex sequences.​
New written treatment training protocols.​
New Sea Magik philosophy training and product info sheets.​
Support from Sea Magik Mentor Team via webinars and in-person events.​