Relaxing Dead Sea Mud Cocoon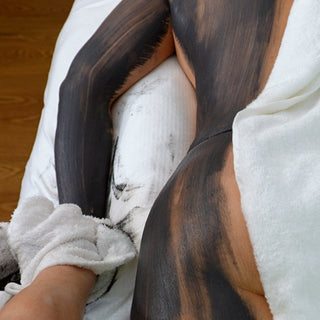 Description
Experience the ultimate relaxation with Sea Magik Relaxing Dead Sea Mud Cocoon. This one-of-a-kind treatment combines an indulgent cleansing and exfoliation experience with the therapeutic benefits of ancient mineral-rich Natural Body Mud from the depths of the Dead Sea.

The treatment starts with a warm cleanse followed by the application of Dead Sea mineral mud onto the body. The body is then wrapped in a blanket to allow for optimal absorption of minerals while a tension-easing scalp massage is performed.

The result is skin that feels renewed, nourished, and softer than ever before.
Treatment Time
Contra-Indications
fever, contagious diseases, blood clots, pregnancy, kidney conditions or liver conditions, cancer, inflammation, uncontrolled hypertension
Products & Equipment Required
Sea Magik Brand Bible
Download the new Sea Magik brand bible below, a one stop shop, so you can really get to grips with our brand and feel confident when speaking about Sea Magik to your clients.
Downloads
Downloadable PDF versions of our Signature Sequence and Treatment Protocols, so you can follow at your own pace.
Video Library
Follow our step by step guide below.